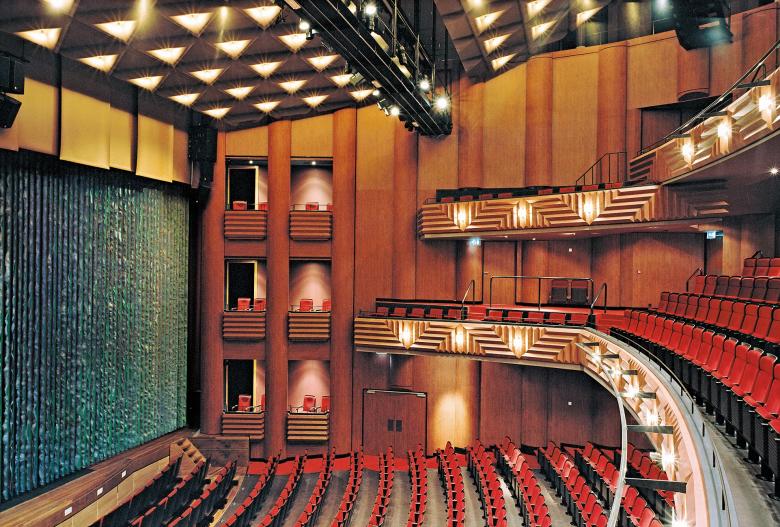 Photo
Daria Scagliola & Stijn Brakkee
Theater De Spiegel in Zwolle is suitable for intimate theatre performances with around 850 people, but is also designed for opera en symphonic concerts with around 1000 people. The theater and with it the acoustics can be changed by moving ceilings and moving proscenium sidewalls. In all situations only natural acoustics are used, which is extraordinary in the Netherlands.
Unique acoustic design
At theater De Spiegel, the design was based on a compact (horseshoe-shaped) theater with two balconies. The varied acoustics necessary for the combination with symphonic concerts are obtained by triplicate the volume of the theater. The contributions to the amplification of the acoustic volumes are provided by an orchestra room on the stage, movable ceilings and a gallery with extra seats as the third balcony.
To make sure this new concept would work in every respect, the acoustical behavior was studied using a 1:12 scale model and subjective evaluations were carried out through auralisation. The results of the scale model study were also used to design the final diffusive wall and ceiling elements. Also the seats were tested in the acoustic laboratory of Peutz for their acoustic properties, and provided with a perforation in the bottom of the seat to minimize the difference in absorption with and without occupation as much as possible.
The result appears to meet all acoustic expectations after opening the theater in 2006. The intended variation in acoustics is realized with a reverberation time that varies between 0.9 seconds for theater, about 1.4 seconds for opera and 2.0 seconds for symphonic concerts.
Innovation prize
Such a volume variation of 1:3 in one room, with which, without substantial compromises, a true theater and a truly large concert hall are obtained, was not yet applied anywhere in the world in such a relatively simple but effective way. Partly for this reason, the Theater de Spiegel was nominated for the innovation prize "de Vernufteling" and for the architecture prize "De Gouden Piramide 2006". The book "De Spiegel: Toonbeeld van Theaterbouw" (De Spiegel: example for theater construction) on the creation of this theater and all special acoustic and architectural aspects, was published.
Other consultancy services by Peutz
Besides acoustics, Peutz also provided consultancy services regarding building acoustics (installation noise, internal and external sound insulation), building physics aspects and fire safety for the new construction of theater De Spiegel in Zwolle.
With regard to fire safety calculations were done of the smoke distribution (filling time calculations) and the fire load, in which the total fire load in the theater is considered including the fire load of the theater seats and the decor. This made it possible to comply with fire safety regulations without the use of a smoke exhaust or sprinkler system.