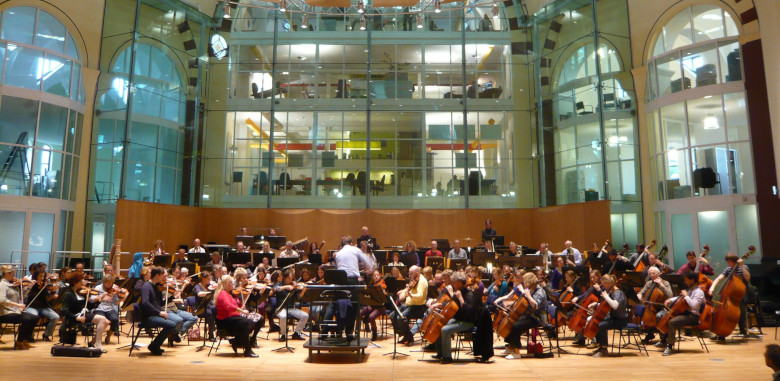 The Gerardus Majella Church in eastern Amsterdam is a national monument that is built in 1925. It is a domed church, inspired by Byzantine churches. When the Dutch Philharmonic Orchestra moved in, the church was renamed 'De NedPho-Koepel'.
An ongoing surprise
The main rehearsal space is the core of the building. To turn these 12,000 m3 into a rehearsal space for an orchestra, we used both a scale model as well as a calculation model to find out which facilities are needed to create the optimal room acoustic conditions for both the orchestra and the 200 seats for the audience. The Dutch Cultural Heritage Agency was very keen on an as unobstructed view on the dome as possible. With the acoustic facilities that were applied, we have succeeded in doing this to such an extent, that the lack of an echo keeps on surprising.
The adjacent spaces
The project was not limited to the central rehearsal hall, but extended to the offices and reception rooms around it, all with a view of the rehearsal space. Board members and support staff are behind new soundproof glass, very close to the orchestra. Dressing rooms, rooms for conductors and soloists and several smaller rehearsal rooms are situated in the west wing. The unaltered east wing is rented out to third parties. To limit the sound pollution for these offices, a second glass façade was put in front of the glass walls, which doubles as the back wall for the orchestra.
Future
From the first rehearsals the orchestra is more than satisfied. Their new home, under a heavenly dome, meets all the high expectations. In these troubled times of budget cuts, they have found a new basis in this excellent rehearsal space, from where they can prepare for the future.
Client
Stadsherstel Amsterdam NV in collaboration with Nederlands Philharmonisch Orkest