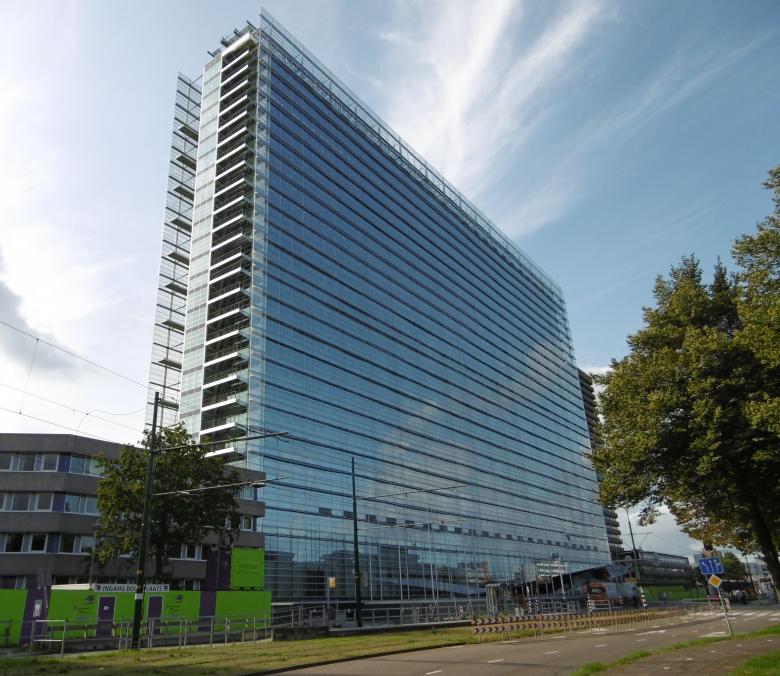 European Patent Office in Rijswijk along the A4 the new building for the European Patent Office (EPO) is realized. The building of 150 meters by 100 meters has a steel structure and a double facade with lots of glass. Around the building there is a body of water that, together with the reflection of the sky in the facade of the building, forms a dynamic whole.
Due to the integral collaboration in the construction team, there was room for innovation, among others in climate control, lighting, acoustics and energy use.
Contribution of Peutz
Peutz was involved in the design phase up to and including the delivery phase as an advisor in the fields of fire safety, building physics and acoustics. The double façade is a technical masterpiece and contributes to comfort because the building-physical properties are tuned to the desired indoor climate. In the inner facade, windows to be opened are included and plants grow in the cavity. The installations are included in the hollow floors, creating a flexible building.
The indoor climate in the offices was investigated using simulations of thermal comfort and the entrance of daylight to demonstrate that high standards are met. The double glazed façade provides extra noise protection against the sound of the adjoining A4. This façade also saves energy in the winter, while excessive heat is prevented in the summer due to the sun protection properties and ventilation.
In connection with the height of the building, a customized solution for the fire safety concept was drawn up by Peutz in close consultation with the fire brigade. The building is equipped with a sprinkler system to which other facilities are also coordinated. By means of simulation calculation it has been shown that the building can be evacuated quickly. During the execution the fire safety concept was monitored and Peutz regularly carried out inspections to guarantee the quality.