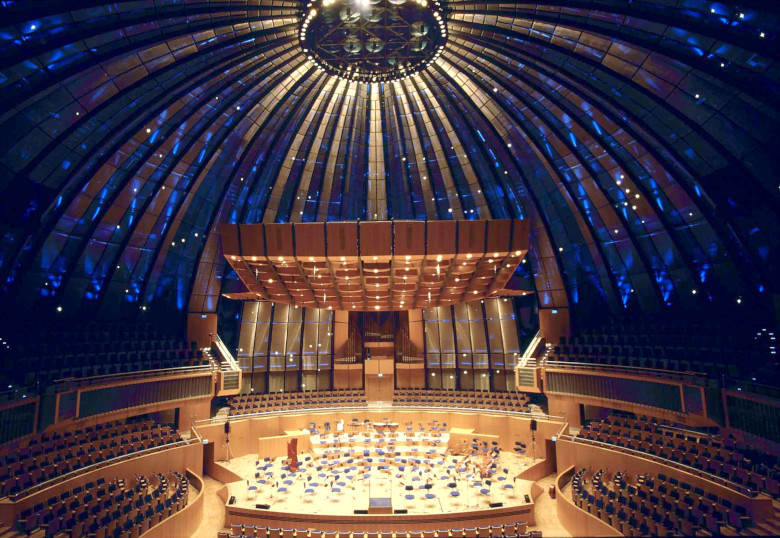 The Tonhalle in Düsseldorf was created in 1978 and named after the famous shoebox concert hall that was destroyed in World War II. The concert hall was built in the Rheinhalle, a former planetarium. The very special shape of the almost completely hemispherical dome proved to be an obstacle to appropriate concert hall acoustics. The hall was infamous for its 'Poltergeist', a tremendous echo.
Contribution of Peutz
Because of changed fire security regulations and asbestos abatement, the hall had to be completely refurbished. In the course of this renovation, the problematic acoustical characteristics had to be solved as well. Respecting its monumental status, a concept was proposed which referred to its history as a planetarium: the dome shape would be preserved with a visually opaque but acoustically transparent metal wire mesh, and behind this a new structure would 'distort' the sound field and eliminate the echo.
To investigate the feasibility of this solution, an acoustical 1:12 scale model was used. The initial results showed that only diffusion would be insufficient. Extensive research showed that a complex geometry of reflecting surfaces, re-directing the sound away from the centre and keeping it 'in the air', would solve the problem. The hall was rebuilt with this geometry, the echo has disappeared and the sound quality has been improved. By the adapted geometry, the volume enlargement and reduction of the absorption due to the chairs, the natural reverberation time was significantly increased.
To enhance the interaction of the musicians, modifications on the new, enlarged stage and canopy were applied.
The appreciated quality of the acoustic of the new Tonhalle is the result of strong direct sound and a well sounding, now homogeneous reverberation sound field.
Publications
From 'Knocking Ghost' to excellent acoustics - The new Tonhalle Düsseldorf: Innovative design of a concert hall refurbishment